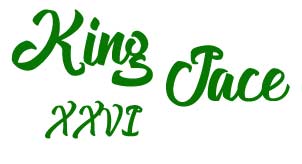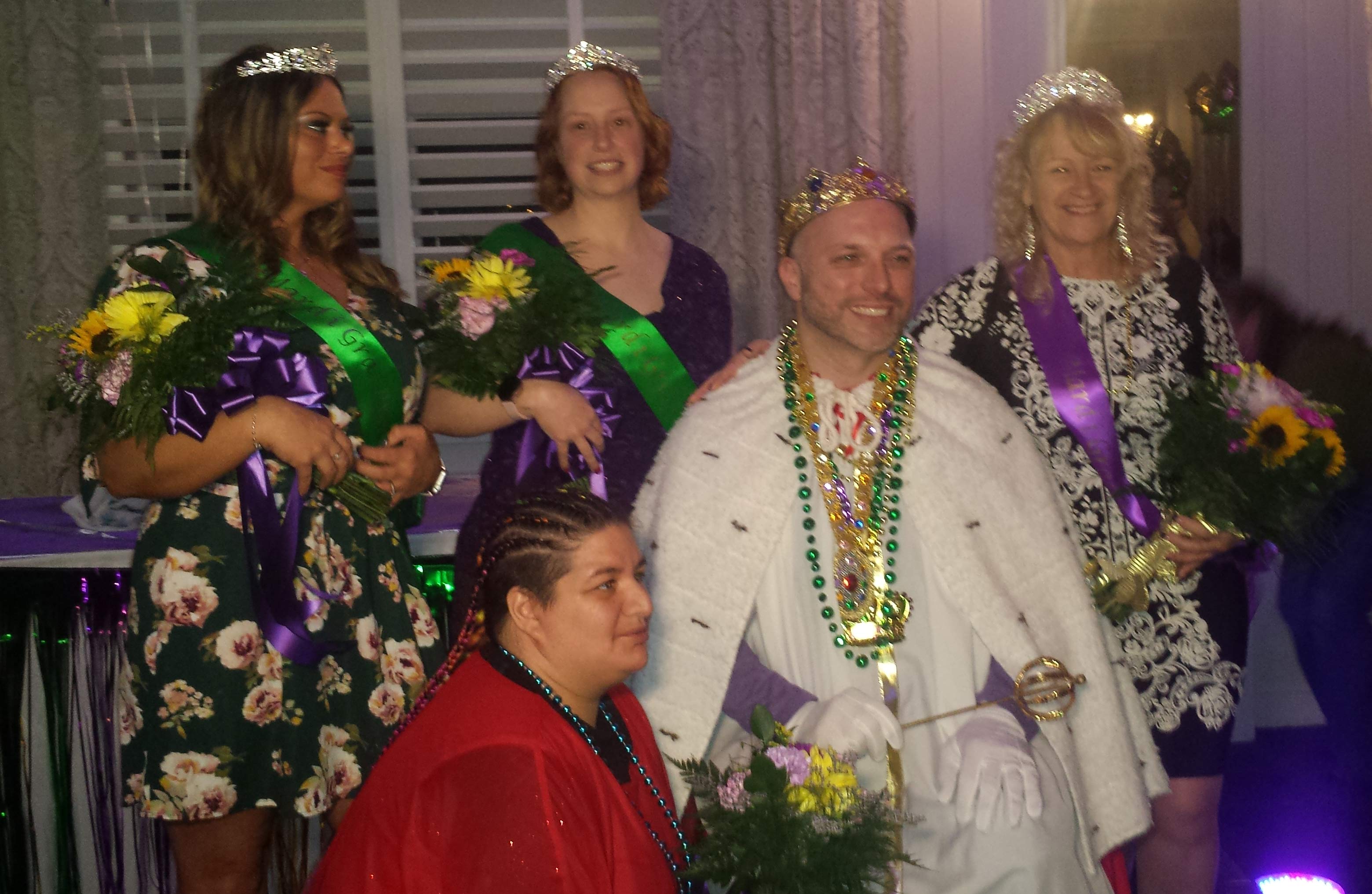 King Jace (seated), Queen Lori (right), Princesses Tabitha (center) Princess Ashley (left), and 8-time Queen Contestant Amanda Girard (kneeling).
(Woonsocket)—The Northern Rhode Island Council of the Arts is pleased to announce the true identity of the man playing King Jace XXVI, the Mysterious Monarch of the Woonsocket Mardi Gras, has been Dominique Doiron, known locally for his work in preserving and developing the St. Ann Arts and Cultural Center in Woonsocket.
King Jace's final stop in anonymity was the Woonsocket Mardi Gras' Queen Coronation Event held at Savini's Pomodoro Restaurant where Lori Thuot was crowned Queen of the Woonsocket Mardi Gras, Tabitha Westerhuis was crowned 1st Princess, and Ashley Robitaille 2nd Princess.
With the Royal Court in place, Queen Lori's first official duty was to unmask King Jace before the large crowd of onlookers.
"What an experience!", Dominique exclaimed when the crown, beard, moustache, and wig were finally removed. "I have watched dozens of men before me wear this costume, but I never appreciated how hard it is to be quiet and not talk at all while wearing it." The life-long volunteer and rookie member of the Northern Rhode Island Council of the Arts added, "I hope to see you all at the Mardi Gras Ball at St. Ann's this Saturday the 22nd!"
Here's an explanation of the Ten Clues which were used by citizens to guess the true identity of King Jace:
Clue 1: "—2 degrees separate him from others." Dominique has earned two Bachelor's Degrees.
Clue 2: "—Is Woonsocket born and raised." An obvious clue. Dominique is a proud Villa Novan.
Clue 3: "—Is a cruiser who loves opera. " One of his favorite vacations was on a cruise ship. And, Dominique not only loves the opera, but sings opera and enjoys trips to the Metropolitan Opera in New York City.
Clue 4: "—Is impatient with impatient people." Like most folks, our king has little appreciation for impatience.
Clue 5: "—Supports those who support their community." As a lifelong volunteer, Dominique has a soft spot in his heart for those who are active in community betterment.
Clue 6: "—Hates seafood, loves the big apple." Another king who doesn't care for seafood, we've had several. The second part of this clue alludes to Dominique's love of travelling to New York City to take in an opera or a show.
Clue 7: "—Loves it when he and 'things' work out." Admitting he doesn't get chance to do it as often as he'd like, the king says he feels great when he can work out for fitness. The rests of the clue was added for interest, as he does enjoy seeing a plan come to fruition.
Clue 8: "—Serves those he works with." Dominique works in membership at the Kent County YMCA, serving the members and staff there.
Clue 9: "—Will someday return to Paris." Dominique took part in a school trip to Paris while attending Woonsocket High School. He dreams of returning there as an adult.
Clue 10: "—Not used to this much hair." For the first time, King Jace wrote this clue entirely by himself. It was his reaction to wearing the costume for the first time. Dominique is a young man who lost his hair at an unusually early age.
Both Dominique, in his King's robes but not in his disguise, and Queen Lori will reign over the Woonsocket Mardi Gras Ball with the two Princesses this coming Saturday the 22nd at the Saint Ann Arts and Cultural Center on Cumberland Street in Woonsocket and will also ride as featured guests in the 2020 Autumnfest Parade this fall.
Tickets for the Ball are still available by calling Lorraine Cloutier at 401-762-9072
<<...>>