FOR IMMEDIATE RELEASE: CONTACT: Gail Mastrati, 401-255-6144
Wednesday, March 10, 2021 This email address is being protected from spambots. You need JavaScript enabled to view it.
DEM OFFERING VIRTUAL TRAINING SESSIONS
ON SAFE CLEANING AND DISINFECTING PRACTICES
PROVIDENCE – The Department of Environmental Management (DEM), in partnership with the Rhode Island Committee on Occupational Safety and Health (RICOSH) and Northeast Waste Management Officials Association (NEWMOA), has embarked on a project to encourage a green cleaning and disinfecting approach throughout the janitorial and housekeeping community and schools in Rhode Island and Southeastern New England. This project has been funded by an Environmental Protection Agency (EPA) Pollution Prevention (P2) Grant that focuses on chemical safety, toxics use reduction, and worker safety. The project includes a series of virtual training sessions on safe cleaning and disinfecting practices, with the first program scheduled on April 29.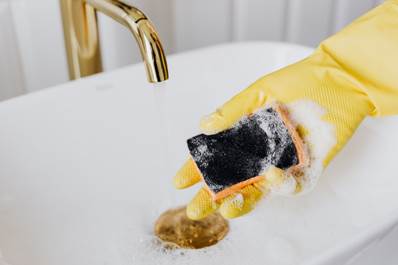 Photo by Karolina Grabowska from Pexels
The initiative is designed to increase public awareness of the hazards of conventional cleaning chemicals and disinfecting products. Many cleaning and disinfecting products on the market today use chemicals such as bleach, phenols, and quaternary ammonium compounds (quats) that can adversely impact human and environmental health. Participants in the training sessions will learn why certain cleaners and disinfectants may present health and indoor air quality hazards, and the steps they can take to control or eliminate them by changing their approach to cleaning and disinfecting and switching to green cleaning products. The sessions will include tips on how to be safe when using cleaning and disinfecting chemicals and how to substitute conventional chemicals with sustainable choices listed in the US Environmental Protection Agency's (USEPA) Safer Choice program. The most effective method of hazard control is to substitute a less hazardous material for a hazardous one. The program also advocates for the implementation of policies that initiate company- or institution-wide changes to switch to safer chemical use.
What: Safer Cleaning and Disinfecting Training Session
When: Thursday, April 29, 2021| 10 a.m. to 11:30 a.m.
Where: GoToWebinar link: https://register.gotowebinar.com/rt/1851072219343535119
The project is made possible through a grant from the USEPA.
For more information about DEM divisions and programs, visit www.dem.ri.gov. Follow us on Facebook at www.facebook.com/RhodeIslandDEM or on Twitter (@RhodeIslandDEM) for timely updates.

Follow us on social media!