Woonsocket Parks & Recreation Upcoming Spring Events!
Fresh air is good for all of us! Hope you will join us for these great senior/adult programs. Please spread the word to your family, friends, neighbors, co-workers and clients!
These FREE events are promised to be safe, fun and engaging every week!
Every Wednesday: (Starting May 12th through June 30th) @ 1pm ~ River Island Park we have our Seniors Social Events! Bingo, crafts, activities and more!
Every Tuesday & Thursday: (Starting May 11th through July 1st) @ 11am ~ Dionne Track we have our Walking Club! Walk at your own pace, come when you can, stay as little or as long as you' re comfortable!
Every Monday: (Starting May 17th - June 21st): @ 11am ~ WWII Veterans Memorial Park we have our Senior Fitness Days with chair yoga, stretch, balance and movement. (we will NOT meet 5/31)
Call Liz with ANY Questions: 401-767-9287
or email: This email address is being protected from spambots. You need JavaScript enabled to view it.
PLEASE SHARE!!!!
Additionally, We have resumed our Monthly Paint Nights, these are offered at $10 per painter. Contact Liz for more information on dates and times.

We are also finalizing our programs for the kids that will begin in June – a separate email will go out with that information very soon.
Elizabeth Kerrigan
Parks & Recreation Superintendent
1117 River Street – Woonsocket, RI 02985
401-767-9287
Like us on Facebook & Always know what's going on : Woonsocket Parks & Recreation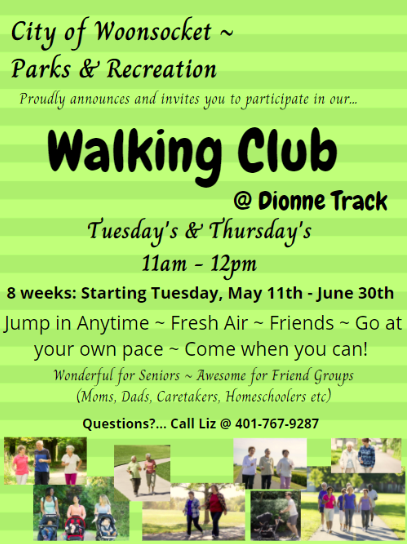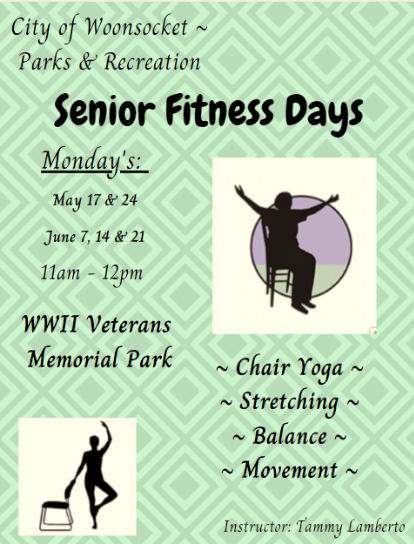 Follow us on social media!