Sponsors rally support for bill to ban new high-heat waste incineration facilities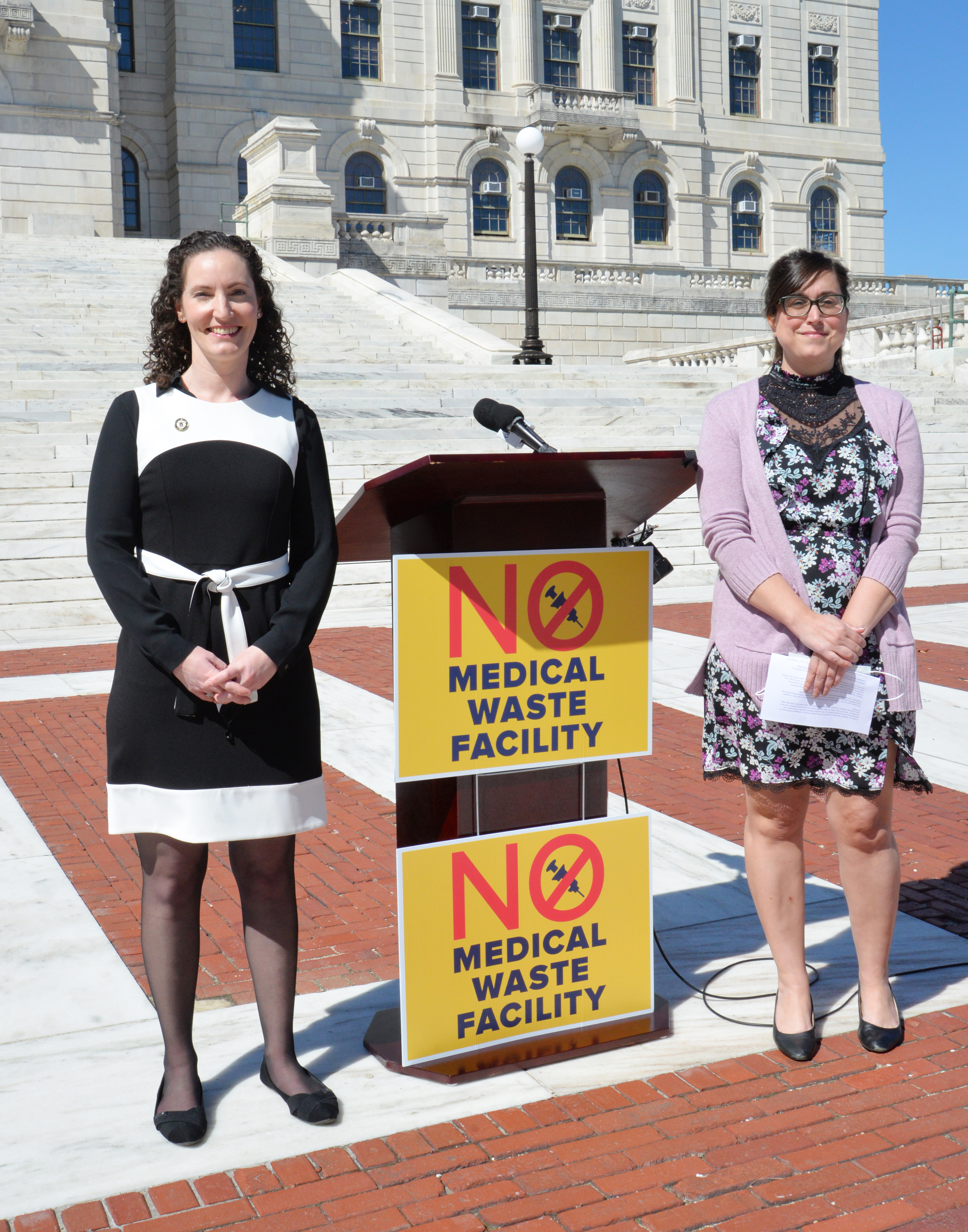 STATE HOUSE – As the developer proposing a medical waste incineration plant on the West Warwick-East Greenwich border is spending thousands to lobby against their bill, Sen. Bridget G. Valverde and Rep. Justine A. Caldwell today rallied support for their legislation to prohibit new high-heat waste incineration facilities in Rhode Island.
The sponsors pointed to the environmental and health risks as well as the wide public opposition to the proposal at a State House event today, held ahead of the Senate Judiciary Committee hearing on the bill this evening, and called for passage of the bill (2021-H 5923, 2021-S 0527).
"There are so many unknowns involved in this proposal, all of which have the potential to critically endanger the surrounding communities and the environment. Burning dangerous waste at high temperatures has obvious risks and it undermines our efforts to stop air pollution. We shouldn't have to be fighting a proposal like this in 2021," said Representative Caldwell (D-Dist. 30, East Greenwich, West Greenwich). "Of course our communities are against this outrageous proposal. It's a type of facility that shouldn't be allowed in this day and age. Our bill would ensure that it isn't."
MedRecycler-RI Inc. is seeking approval to construct a facility that plans to accept 70 tons of medical waste daily from across New England and burn it at extreme temperatures through a process called "pyrolysis." If it were approved, the facility would be the only medical waste pyrolysis facility in the world. The developer is portraying it as a "green" energy project, but pyrolysis critics say it is inefficient because it takes so much energy to superheat the waste. The process also produces oil and tar byproducts along with emissions.
The facility would be located at 1600 Division Road, West Warwick, behind a child care center and across the street from New England Institute of Technology, both of which are in East Greenwich.
The proposal drew hours of testimony opposing it during a recent Department of Environmental Management hearing on its solid waste facility license application, including many community members from East Greenwich and West Warwick, abutting businesses, environmental advocates and elected officials. Attorney General Peter F. Neronha has called for the approval process to be suspended until the developer proves the technology is safe for the environmental and public health.
MedRecycler has hired a lobbying firm at a cost of $7,500 a month to lobby against Senator Valverde's and Representative Caldwell's legislation, while at the same time claiming publicly that the bill won't affect its project.
"We can't open up Rhode Island to out-of-state developers who want to use our state to make a buck by bringing untested, carbon- and toxin-emitting facilities into our communities. They are willing to spend thousands to push their agenda at the State House and we won't stand for it," said Senator Valverde (D-Dist. 35, East Greenwich, North Kingstown, South Kingstown, Narragansett). "Our town has already had to spend a lot of time and money litigating this issue and we don't want other communities to have to go through the same thing every time one of these facilities is proposed. If it's East Greenwich and West Warwick today, it'll be your community tomorrow."
The House Environment and Natural Resources Committee hearing on the House version of the bill last month drew overwhelming support, and the sponsors expect today's hearing will attract a similar response.
Kevin Budris, staff attorney at the Conservation Law Foundation, joined the sponsors at the event today. His organization is among those that have been advocating against the proposed facility.
"Burning waste, in any form, is toxic and climate-damaging. It does not matter if you call it incineration, gasification, pyrolysis, or so-called 'advanced-recycling.' All waste burning generates climate-damaging gases along with toxic pollutants like lead, mercury, and dioxins. If we are going to achieve the enforceable goals in the Act on Climate and protect Rhode Islanders from dangerous pollution, we need to reduce, divert, compost, and recycle—not burn—our waste," Budris said.
-30-
For an electronic version of this and all press releases published by the Legislative Press and Public Information Bureau, please visit our website at
www.rilegislature.gov/pressrelease
.

Follow us on social media!