Rep. Diaz, Sen. Quezada welcome new Dominican
ambassador during visit to State House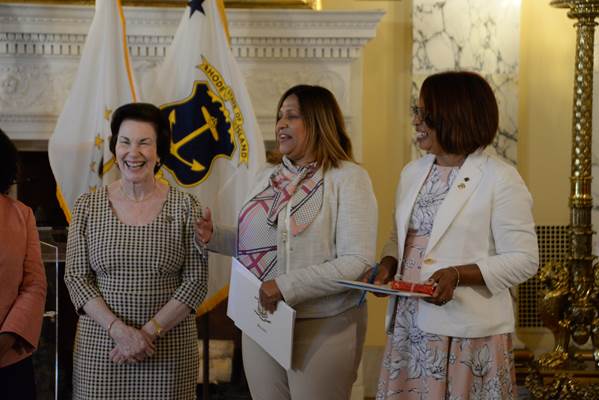 STATE HOUSE — Rep. Grace Diaz (D-Dist. 11, Providence) and Sen. Ana B. Quezada (D-Dist. 2, Providence), along with Lt. Gov. Sabina Matos, welcomed the Dominican Republic's Ambassador to the United States Sonia Guzmán to the Rhode Island State House today.
"It is an honor to welcome Ambassador Guzmán to Rhode Island," said Representative Diaz, herself a native of the Dominican Republic. "Her commitment to education in her country is an inspiration to us all."
Guzmán, who is the daughter of the late Antonio Guzmán, former president of the Dominican Republic, was appointed to the position last year — the first woman to serve as the Dominican ambassador to the U.S.
"I am so proud that Ambassador Guzmán took the time to visit our state," said Senator Quezada, also a Dominican native. "She has been a dedicated public servant in the Dominican Republic for decades, and I look forward to her commitment in strengthening the bonds between our two countries."
Guzmán was received in the State Room following a visit to the Dominican-owned Jet Set Club in Providence and lunch at the University Club, also in Providence.
-30-