Thundermist Health Center First in Rhode Island to Receive
Joy in Medicine™ Health System Recognition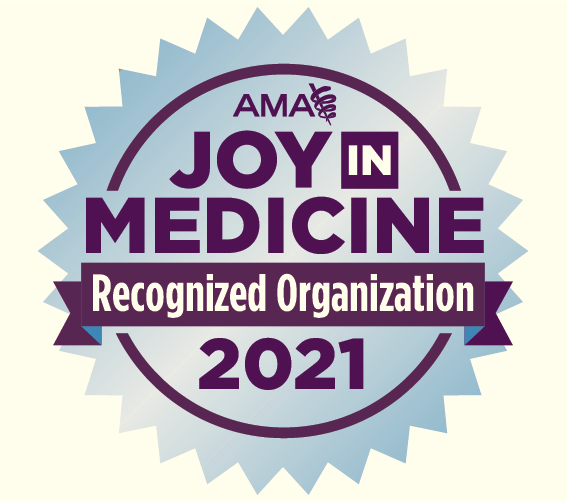 (Woonsocket – October 8, 2021) – Thundermist Health Center is the first organization in Rhode Island to earn the Joy in Medicine™ Health System Recognition from the American Medical Association. The Joy in Medicine recognition is granted for ongoing efforts to support medical provider well-being and reduce burnout among medical providers.
Thundermist Health Center is the first Federally Qualified Health Center to be recognized. Thundermist was one of 44 health care organization recipients nationally. Recipients must demonstrate commitment to preserving the well-being of health care team members by engaging in proven efforts to combat work-related stress and burnout.
"As an organization, we pride ourselves on taking exceptional care of some of Rhode Island's most marginalized patients and communities," said David Bourassa, MD, chief medical officer. "One thing that sets us apart from other organizations is our attention to caring for our caregivers. We act in accordance with our belief that our patients will not thrive without our exceptional health care workers."
"Thundermist is at the cutting edge of provider wellness," said Matthew Malek, MD, MPH, medical director of provider experience. "We are proud to be the first organization in Rhode Island, and the first Federally Qualified Health Center in the country, to receive the Joy in Medicine Recognition."
The American Medical Association evaluates candidates for the Joy in Medicine Health System Recognition Program according to their documented efforts to reduce work-related burnout through system-level drivers. Scoring criteria was based on demonstrated competencies in commitment, assessment, leadership, the efficiency of the practice environment, teamwork, and support.
To obtain this recognition, Thundermist has woven staff wellness into all elements of the organization. The health and wellness of employees is at the forefront of the organization's strategic plan.
"I truly feel supported and valued working as a physician at Thundermist," said Joline MacFarlan, MD, physician. "We have a wonderful culture of respect and compassion that permeates the clinical teams and Thundermist leadership. I appreciate that as an organization Thundermist has been responsive and creative in addressing the unique stressors that have affected health care workers and our families during the pandemic. I'm very grateful to be a part of the team here."
"Being at Thundermist, I have realized that working alongside staff and colleagues who remain ardently passionate about providing the highest quality health care to our incredible patients, many of whom come from underserved and marginalized communities, can only be sustained when we are given the tools and support to practice to our highest level of training," said Nithin Paul, MD, physician. "Thundermist has invested in an environment that allows us to practice with compassion and nourish our own well-being as providers. I am proud to be a part of this family."
A national study examining the experiences of physicians and other health care workers who worked in health care systems during the COVID-19 pandemic found that 38% self-reported experiencing anxiety or depression, while 43% experienced work overload and 49% had burnout.
"New programs and supports have been so helpful for us providers," said Elizabeth DaSilva, NP, family medicine provider. "Thundermist has shown great commitment to addressing burnout and improving the provider experience."
"The Joy in Medicine recognition is a welcomed external validation of how much Thundermist attends to clinician wellness," said Dr. Malek. "The Joy in Medicine recognition doesn't mean that we are done, but that we have the infrastructure to really accelerate, and then sustain our wellness efforts."
###
Thundermist Health Center is a full-service primary care provider with dental and behavioral health services. The non-profit community health center aims to improve the health of patients and communities by delivering exceptional health care, removing barriers to that care, and advancing healthy lifestyles. Thundermist has locations in West Warwick, Woonsocket, and South County. The organization cares for patients regardless of insurance and ability to pay. In 2020, Thundermist cared for more than 50,000 patients.
Learn more at www.thundermisthealth.org.